Opportunity to Learn (OTL) Restores Hope for Marginalized Groups in Borno: A Story of Haruna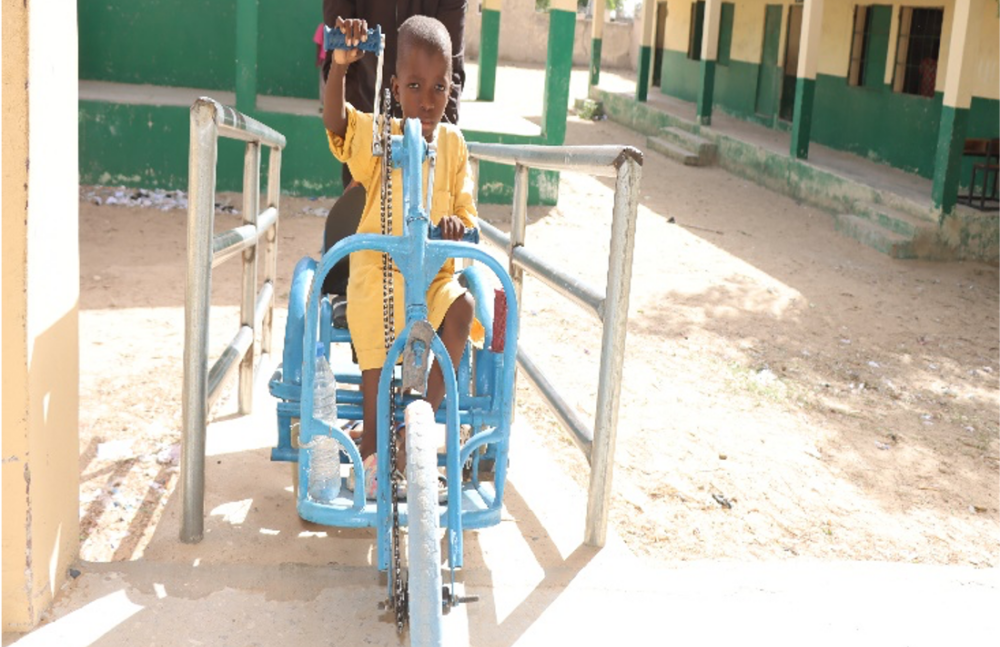 Haruna Umar is supported by one of the Learning Facilitators to ride through the ramp for easy access to the classroom. Photo credit: Magdalene Michael USAID/OTL Date: June 1, 2023
The following success story is about a learner who has been supported and funded by the International Rescue Committee (IRC) and the U.S. Agency for International Development (USAID) in the Opportunities to Learn activity. The views expressed by the authors do not necessarily reflect those of IRC or USAID.
Access to education is a basic human right for all. The insurgency in Borno state, which has lasted for more than a decade, has resulted in 2.8 million children needing education-in-emergencies support (UNICEF Report) across Borno Adamawa and Yobe (BAY) states. As a result, children have been deprived of their basic rights to education and left behind by their counterparts worldwide.
Due to the lingering conflict in Northeast Nigeria and its severe impacts, such as displacement, loss of livelihood, and attacks on education, many children are forced out of school. The USAID Opportunity to Learn (OTL) project supports the immediate education needs of out-of-school children through safer new and existing non-formal education in Northeast Nigeria.
A Story of Haruna Learning at OTL Learning Center
Haruna Umar Mohammed is a 10-year-old who attends an OTL learning center consistently. He appreciates the level of acceptance from his peers at the center and the nondiscrimination he enjoys.   
The ten-year-old Haruna acquired a physical disability at age three due to an accident when he fell off his mother's back and never regained his legs. 
Harun says, "Before I started attending the center, the only language that I could speak and understand was Kanuri. But now I understand Hausa, my favorite subject, and a little English. I hope to become a medical doctor to care for the sick and persons with disabilities. I am always excited whenever it is time to come to the center and learn. I enjoy learning new things."
According to Haruna, the level of consistency in the provision of learning materials, as well as his new Disability Tricycle, are some of the motivating factors for him to attend the center because his mother cannot afford to buy such items. A disability tricycle is a local-made wheelchair that is adapted for navigating the terrain and streets in Nigeria. Since Harun started coming to the center in 2022, he has encouraged his friends and relations to join the centers nearest to them.
Haruna's Mum – Baba'-Gana Ali
39-year-old Baba'-Gana Ali described her household as a major beneficiary of the OTL project. Her son Haruna gets to learn despite his disability. She noted that before her family received Harun's Disability Tricycle due to the USAID-funded OTL project—she had not imagined such support was possible. She says that life keeps getting better. Coming from a community (Bama) where residents only speak Kanuri, she and her family experienced culture shock when they got to Maiduguri, and all that was being spoken was either English or Hausa. But with the learning center that her son attends, she said he learned how to speak Hausa fluently and is the family's interpreter and teacher.
Baba'-Gaba said, Haruna is supporting his brother Mele on how to speak Hausa and teaching him basic skills in the language.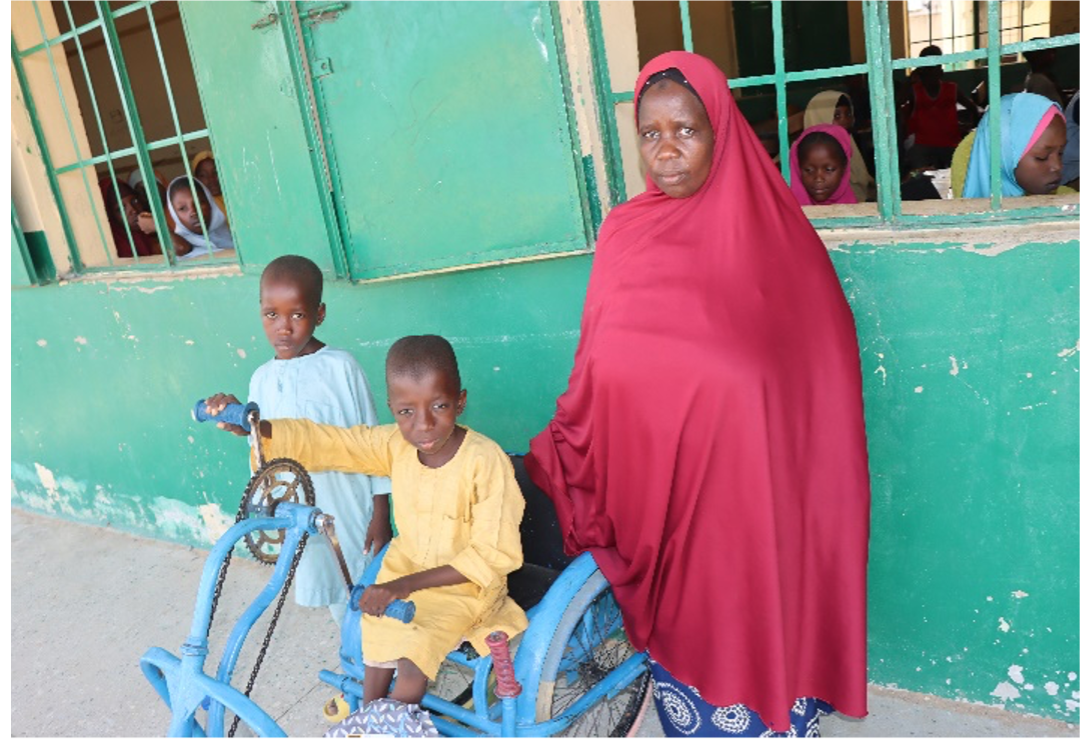 She says: "I cannot thank the USAID-funded OTL enough for the major support they have brought to my household by providing a Tricycle for my son, this has made his access to school easy, and the bike has fascinated his younger brother Mele, who always wants to accompany him to school. For both brothers, the Tricycle is also a major motivation to attend school. Their bond is stronger as they work together and carry out tasks together. My neighbors also rejoiced with me when my son got the Tricycle, all thanks to the lessons he is attending".
She commends USAID for funding such an initiative, and OTL for its holistic approach, which has provided relief for her household while her children prepare to transition into formal schools. She added that, when the insurgence disrupted their livelihood and made them flee their village in Bama, it did not occur to her that her sons will have a second chance to an education. She thought all hope was lost. But with this initiative, she does not need money to send her sons to the non-formal school learning centers.
Baba'-Gana Ali, "I can only wish that parents and caregivers who have children with special needs allow their children to access this opportunity, as they stand to gain a lot. They don't ask for a registration fee, or any payments, in fact they, may find help just as my family did with the free Tricycle my son got, which we wouldn't have been able to afford. You see! It is a blessing. As a parent, I will continue to advocate to other parents to send their children to the learning centers closest to them. My only plea is that after they have gained this knowledge, they shouldn't be left alone. They should be properly transitioned into formal schools, and should receive continued free education until the tertiary level because my son Haruna will become a doctor."
Haruna's Teacher- Halima Ibrahim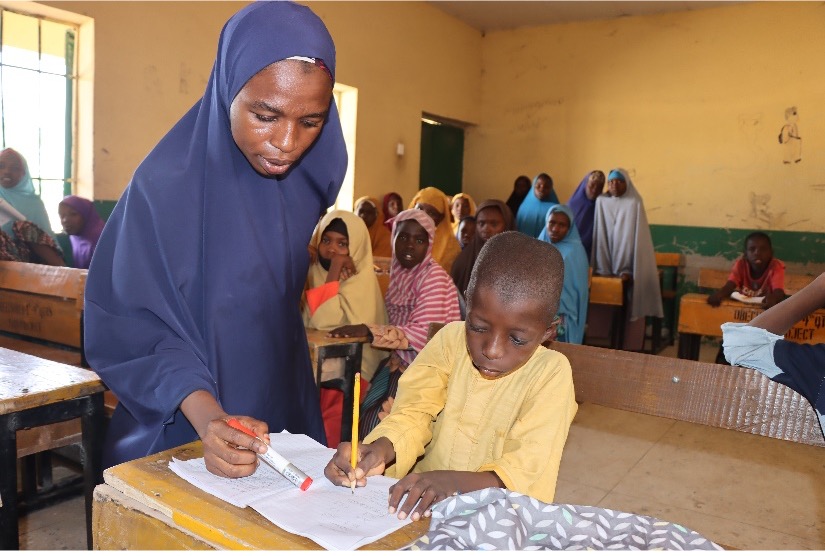 Halima Ibrahim, a Learning Facilitator, shared Haruna's journey after he joined the center. She said he neither understood English nor Hausa. The only language he could communicate with was Kanuri, so she had to learn Kanuri in order to translate whatever she was teaching Haruna to enable his learning.
The 24-year-old said her teaching has been yielding results, as he now understands and speaks Hausa, some English words, and alphabets. To promote inclusion, she prioritizes sensitizing the learners about the need to remain cordial and not stigmatize children with disabilities.
"I told my class that people with disabilities persistently face stigma, and barriers to accessing basic education, and social services. The consistency in reminding the learners that most disabilities are not by choice but by accident or the will of Allah has helped tremendously at the center". Halima reiterated that, due to the level of progress made by Haruna, she is proud to be called his teacher.