My Journey as a Person with Low Vision in the Gambia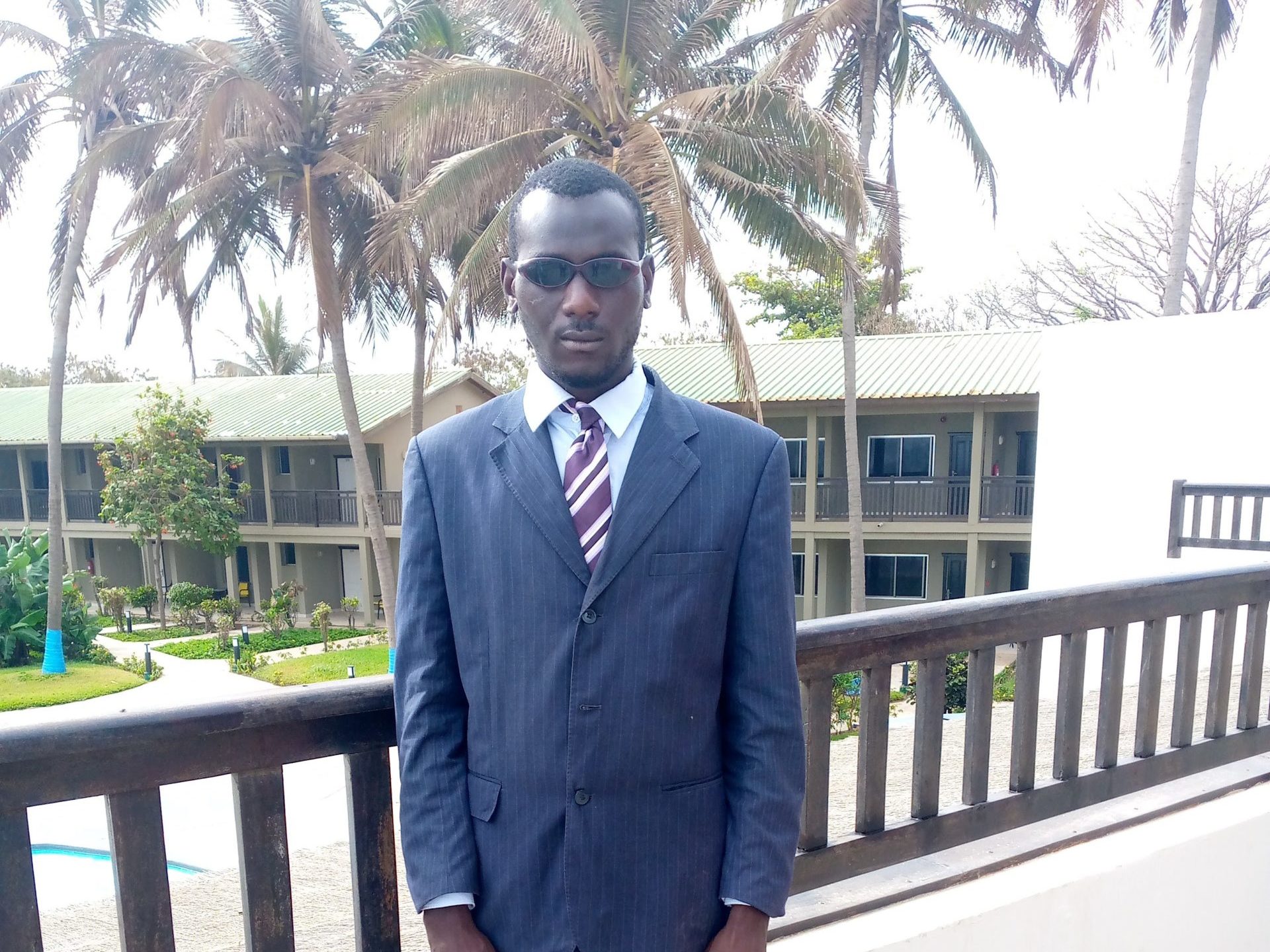 by Samba Jaiteh, Special Needs Teacher and Disability Right Advocate in the Gambia
My name is Samba Jaiteh, and I'm Gambian by nationality, a disability rights advocate, and visually impaired. I was born with an eye disease called cataracts.
As a young boy, I started the first six years of my schooling at the only school for the blind in the Gambia. I then moved to the mainstream school where I was educated with my sighted counterparts and encountered a lot of challenges and discrimination. Difficulties included getting the required notes, as many teachers were not willing to associate with me because I was a visually impaired student. The only way I could take notes was by tape recorder. I would record the teacher in class, and then transcribe my notes with the Braille machine that I used during exams or assessments. Some teachers insisted that I not record their voices in class, and others told me that they didn't have time to help me record the class and that I should consult my fellow students for notes. I then had to either rely on students to read their notes to me so I could record them or instead borrow their notebooks and look to others for help. The challenge I faced was that most of the students did not have complete notes over the class.
The discrimination I faced from both the students and teachers was too much, as most of them did not want to associate with or offer assistance to me. I remember enrolling in computer classes and being told by a student that I should not be enrolled in one class just because I was sitting very close to the computer. The whole class laughed, and as I was very shy, I felt humiliated. On another occasion, an English teacher shouted and disgraced me in front of my fellow students just because I approached him and explained that I needed accommodations because I am visually impaired.
Although I experienced this discrimination, I was strong, kept pushing on, sat for the West African Senior Secondary School Certificate Examination (WASSCE), completed my senior secondary school level from one of the best schools in the Gambia, and graduated with very good results. Doing so granted me entry to Gambia College, where I was trained to be a teacher. During my stay at the college, I also faced challenges from some lecturers, but college was better compared to my junior and senior schools. The Head of Education at the college was very supportive as she was also a person with a disability.
Through my experience, I realized the challenges that I, other visually impaired persons, and persons with disabilities, face in society, and this introduced the concept of "advocacy" into my life. I started advocating for disability rights and discussing with my fellow classmates how to help persons with disabilities when they need it. When I started advocating, many students were not interested as they believed this issue did not affect them. Only a few were interested, and most were close friends of mine. Luckily for me, the college introduced a special needs module related to disability advocacy, and this increased the number of people joining my advocacy discussions in order to gather knowledge to pass their module exam.
Upon completing college, I was posted to a school for the blind where I now teach blind and visually impaired students the curriculum and how to use computers and smartphones with speech software. I currently host a radio talk show on advocacy entitled The Voice of Persons with Disabilities where I discuss the challenges faced by persons with disabilities, including political participation, discrimination from society and family, inaccessible buildings and physical structures. Members of the community call and give me their ideas and share their experiences.
Through my advocacy work and other activities to ensure disability inclusion, I was granted the opportunity to become a Mandela Washington fellow under the MWF 2021 cohort of Kansas State University. There, I took the course Leadership in Civic Engagements, and as an alumnus of the program, I am currently completing my professional development experience (PDE) at Inclusive Development Partners (IDP). IDP is an organization that upholds inclusion and works hard to see that persons with disabilities are not left behind in all aspects of life. The knowledge and training I gathered during my Mandela Washington fellowship, such as advocacy skills, networking, partnership building, and so on, coupled with the experience I am currently getting from my host organization, IDP, during my PDE, such as project management, collaboration, evaluation methods, and so on, will go a long way in supporting my goals of ensuring inclusion, advocating for the rights of persons with disabilities by enlightening the general public, and building the capacity of persons with disabilities. These trainings and experiences will go a long way to help me become a better disability rights advocate, so I can, in turn, support the journeys of other persons with disabilities in the Gambia.
For more information, please visit my Facebook advocacy page